H2 Generator Desk
LC series
The LC series generators use an electrolytic cell with polymeric membrane (PEM) to produce pure hydrogen. These series features a desiccant cartridge that needs to be replaced or refilled when saturated.
The exclusive, electronically-controlled gas/liquid separator, automatic checking for internal leaks whenever starting the unit, and constant control of operating parameters, guarantee maximum safety. Up to 20 units can be connected in parallel.
The touch-screen LCD interface provides simple and user-friendly management of all functions on the unit.
Hydrogen is produced from distilled water using a polymeric membrane (PEM). No acid or alkaline solutions are used.
The LC series features a desiccant cartridge that needs to be replaced or refilled when saturated.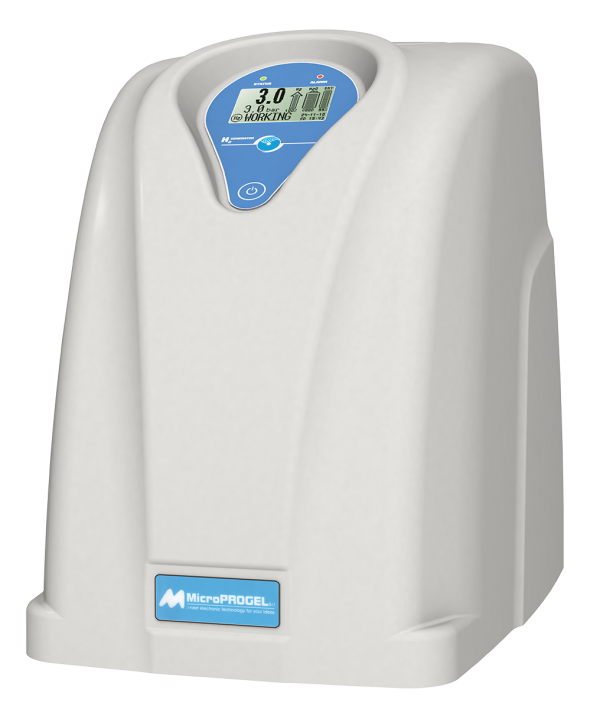 Product features
Available Flow-rates: up to 260 cc/min
Outlet pressure: up to 7 bars
Hydrogen purity: >99.9999%
Drying system: Refillable molecular sieve column
Internal water tank: 1.2 litres, with electronic level control
Dimensions: 25x35x32(H)
Weight: 7 kg
Certification: CE, ISO9001
Main applications
ICP-MS collision gas
Flame ionization detector feed gas (FID)
Refilling metal hydride tanks for use with fuel cells
Technical specifications
Model:
LC.H2.100
LC.H2.140
LC.H2.180
LC.H2.260
General data
Electrolytic cell
PEM technology
Drying system
External column dryer
H2 purity
> 99.9999% ¹
Outlet pressure
7 bars (100 psi)
H2 flow-rate cc/min (Max)
100
140
180
260
Dimensions
25x35x32(H) cm
Net weight (no water in tank)
7 kg
Communication
RS232
X
X
X
X
RS485
Optional
Software functions
Parallel mode
Optional
Automatic tank refill
Not available
Water
Quality
Deionized, ASTM II, <0.1uS
Internal tank capacity
1.2 l
Electrical data
Type of connection
IEC 320-C13 (DESKTOP ADAPTER)
Power supply voltage
100-240 Vac 50/60 Hz
Installed power (Max)
120W
160W
Connections
Hydrogen outlet
1/8" compression fitting
Water
Quick release push-in fitting
¹ Referred to O2, dew point < -55°C
Information request
Need more information about this product?
Please contact us at info@microprogel.it or fill the form.