This unit, combining an LC series hydrogen generator and a ZEROAIR module, can supply H2 gas and zero air for FID detectors in Gas Chromatography. Hydrogen is produced using an electrolytic cell with polymeric membrane (PEM), no acid or alkaline solutions are used. The LC series features a desiccant cartridge that needs to be replaced or refilled only when saturated.
Zero air is produced by purifying the compressed air supplied by the laboratory's compressed air system, bringing total hydrocarbon concentration below 0.05 ppm. Both sections, hydrogen and zero air, can be controlled from the same touch-screen LCD panel.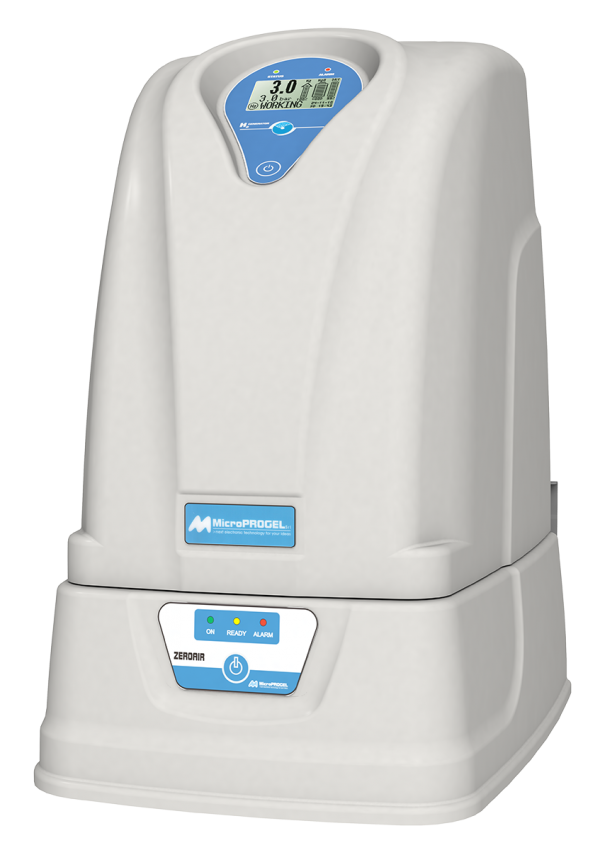 Product features
Available Flow-rates:
100, 140, 180 cc/min (Hydrogen)
1500, 3000 cc/min (Zero air)
Outlet pressure:
up to 7 bars (Hydrogen)
up to 6.5 bars (Zero air)
Hydrogen purity:
>99.9995%
Drying system:
Refillable molecular sieve column
Internal water tank:
1.2 litres, with electronic level control
Dimensions:
28x45x44(H) cm
Weight:
< 15 kg
Certification:
CE, ISO9001
Main applications
Flame photometric detectors
Flame ionization detector feed gas (FID)
Total hydrocarbons analysers
Technical specifications
Models
LC.H2.100
LC.H2.140
LC.H2.180
General information
Electrolytic cell
PEM technology
H2 purity
>99.9995%*
Outlet pressure
7 Bar(101 psi)
H2 flow-rate cc/min
100
140
180
Communication
RS232
X
X
X
RS485
X
X
X
Software functions
Parallel mode capability
NO
Automatic filling of water tank
Optional
Fill canister function
X
X
X
Water
Quality
Deionized, ASTM II, <0,1uS
Supply Pressure (Min)
0.2 Bar (1,4 psi)
Supply Pressure (Max)
1 Bar (14 psi)
Supply Flow Rate (min, Max)
0,2 Lt/min, 1,5 Lt/min
Internal water tank
1,2 Lt
Electrical data
Power supply Connection type
Min din 4 pole
Supply voltage
24VDC (from ZA module)
Installed power (Max)
90W
120W
Dimensions
25x35x32(H) cm
Net weight(water tank empty)
7Kg
Connections
Hydrogen outlet
1/8" compression fitting
Water
Quick release push-in fitting
* Referred to O2, dew point < -55°C
Model:
ZA.MINI.1500
ZA.MINI.3000
Air outlet
Flow rate (Max)
1,5 l/min
3,0 l/min
OUTLET pressure (Max)
Pressure INLET – 0.5 Bar (8 psi)
Total hydrocarbon content
< 0.05ppm
Start-up time
40 min
45 min
Compressed air inlet
Max inlet hydrocarbon content
100ppm
Min Supply Pressure
3 Bar (43psi)
Max Supply Pressure
10 Bar (145 psi)
Dew point
< -20°C
Temperature (Min-Max)
1°C (34°F) – 35°C(95°F)
Communication
RS485
X
Electrical data
Connection type
IEC320-C13
Supply voltage
100-240Vac 50/60Hz
Installation Power (Max)
240W (280VA)
Fuse Rating (5x20mm)
4A
Dimensions
28x45x12(H) cm
Net weight
7Kg
8Kg
Connections
Outlet port
1/8″ Female
Inlet port
1/8″ Female
Water purge
6mm(1/4) push fitting
Ambient data
Temperature
5-35°C (41-95°F)
Humidity
(Max, non condensing)
80% at 25°C (77°F)
Noise
<25dB(A)
IP rating
IP20
Information request
Need more information about this product?
Please contact us at info@microprogel.it or fill the form.