N2 Generator Rack 19″
RACK.N2.2000.HP.D / RACK.N2.3000.D
The MicroPROGEL High Purity (HP) Nitrogen Generators are engineered to transform standard compressed air in to a safe regulated supply of 99.9995% pure nitrogen. Typical applications include GC make up gas and carrier gas, ECD (Electron Capture Detector), solvent evaporation, DSC (Differential Scanning Calorimeter) and virtually any analytical instrument that requires a small flow of ultra high purity nitrogen.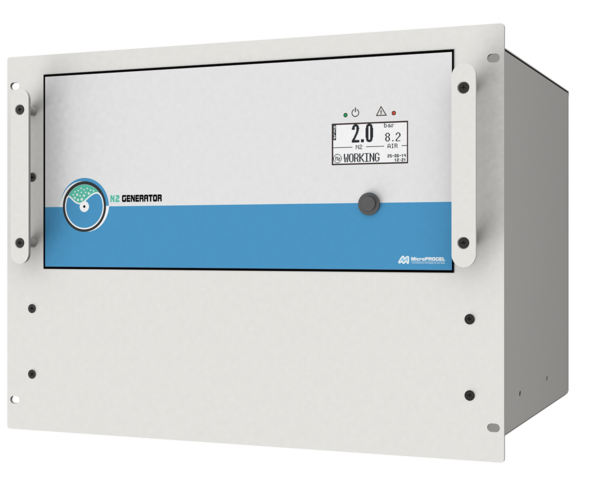 Product features
Generates Nitrogen on demand from external compressed air
Designed to run 24 hours a day
Eliminates dangerous Nitrogen cylinders from the laboratory
Smart control of the flow of inlet air, function of the real flow of nitrogen used by the application
Minimum maintenance with an annual filter change
USB/RS232 ports to remote the system anywhere in the world
Compact and stackable
Low power, low noise, low maintenance
Ultra fast start-up time (10 ppm in less than 3 hours).
Main applications
Produces a supply of high purity Nitrogen 99.9995% for GC application
TOC applications that include combustion and wet oxidation techniques (UV and persulfate)
GC make-up and carrier gas applications including ECD
Technical specifications
Model:
RACK.N2.2000.HP.D
RACK.N2.3000.D
N2 outlet
Flow rate (max)
2000 cc/min
3000 cc/min
Outlet pressure (min)
1.0 bars
Outlet pressure (max)
Inlet pressure – 2.5 bar
Nitrogen purity
>99.9995%
(<5ppm O2 @ 7 Bar inlet pressure)
>99.995%
(<50ppm O2 @ 7 Bar inlet pressure)
Air inlet
Air inlet requirement
Particulate: <1 micron
Dewpoint: -40°C (-40°F)
Oil: <0.01 mg/m³
Flow rate (max)
22 l/min
22 l/min
Min supply pressure
7 bars
Max supply pressure
10 bars
Min temperature
1°C (34°F)
Max temperature
35°C(95°F)
Communication
LCD with touch screen
X
RS232
X
RS485
X
USB
X
General data
Supply rating
100-240Vac 50/60Hz – 2A
Connection type
IEC320-C13
Installation power (max)
240W (280VA)
Fuse rating
4A -240Vac (5x20mm)
Net weight
40 kg
Connections
Outlet port
1/4″ female
Inlet port
1/4″ female
Environment Operating conditions
Temperature
5-35°C (41-95°F)
Humidity (max, non condensing)
80% at 25°C (77°F)
Noise
<25dB(A)
IP rating
IP20
Pollution degree rating
2 (with no aromatic compounds)
Altitude
< 2000
Information request
Need more information about this product?
Please contact us at info@microprogel.it or fill the form.